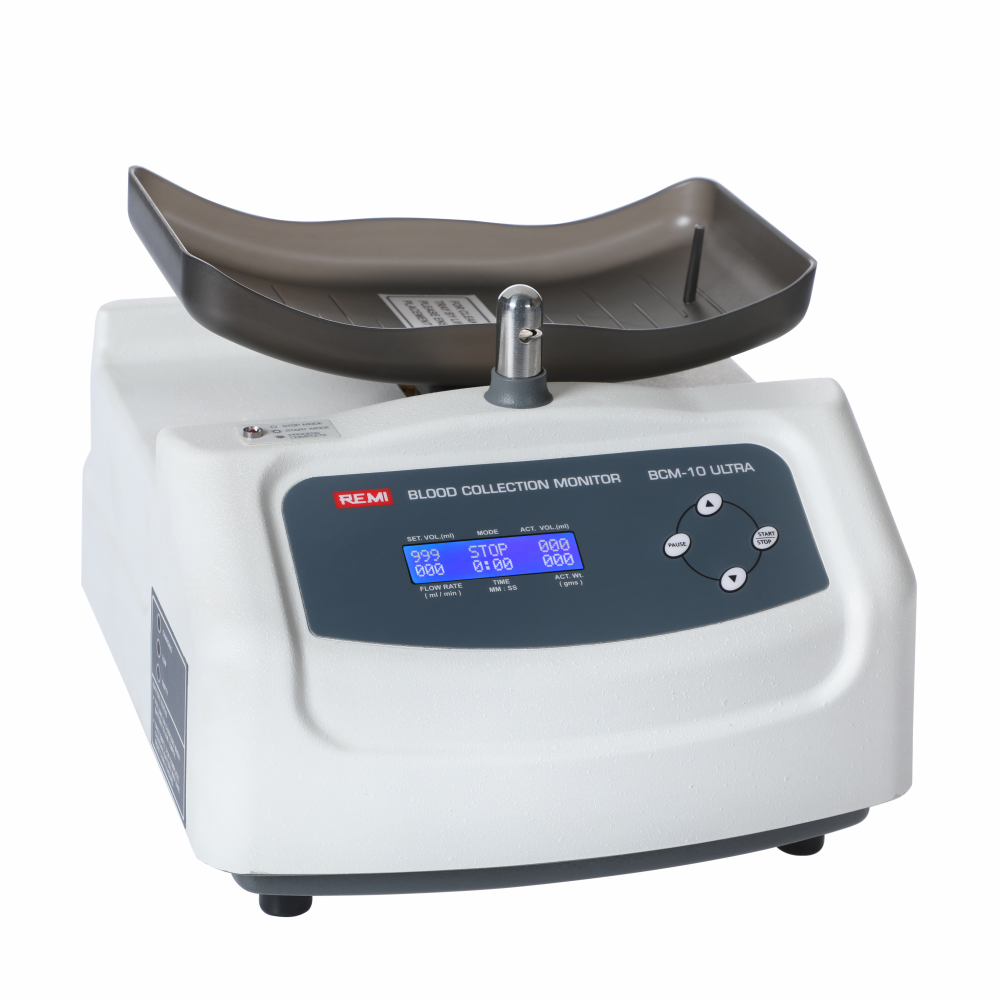 BCM 10 Ultra
REMI BCM-10 Ultra, A new generation portable blood mixer, ideally suited for blood collections in donation room as well as outdoor camps. Inbuilt key features along with microprocessor based controls ensure smooth & gentle mixing process, volume accuracy, precise monitoring of time & flow rate.
The user friendly features of BCM 10 Ultra help phlebotomist to have complete control on donation process, thus ensuring donor safety & comfort.
Salient Features
Precise control on volume collection (Microprocessor based system), best in class accuracy (deviation < 1%)
Automatic tarring of blood Bags
Automatic change over on battery mode in case of power failure (Battery Backup 10 hrs)
Pause facility to temporarily suspend the donation process
Gentle & smooth motorized clamping of blood bag tube prevents damage to the live blood cells
Broad base tray with non-slip surface accommodates all type of blood bags
Automatic release of the bag when lifted, after donation.
Removable magnetic cradle: Single grip tray removal
Recall of last blood collection parameter
Audio Visual Alarm

Flow rate (< 20 ml/min or > 180 ml/min),
Completion of collection
Battery depletion

Visual Indication & Displays

Set volume (ml)
Actual volume (ml)
Collection Process status (Run / Stop / Pause)
Actual weight (gm)
Flow Rate (ml/min)
Time of collection (min)
Battery status
Technical Specifications
Parameter
Unit
BCM 10 Ultra
Mixing
Cycle / minute
12-14
Battery back up
Hours
Up to 10
Maximum Volume
ml.
Up to 999 (net collection)
Taring range
gm
Up to 999
Dimensions W x D x H
mm.
280 x 270 x 255
Net Weight
Kg.
5
Compliance
IEC 60601-1, IEC 60601-1-2
Electrical
220 – 240 volts 50Hz, SINGLE PHASE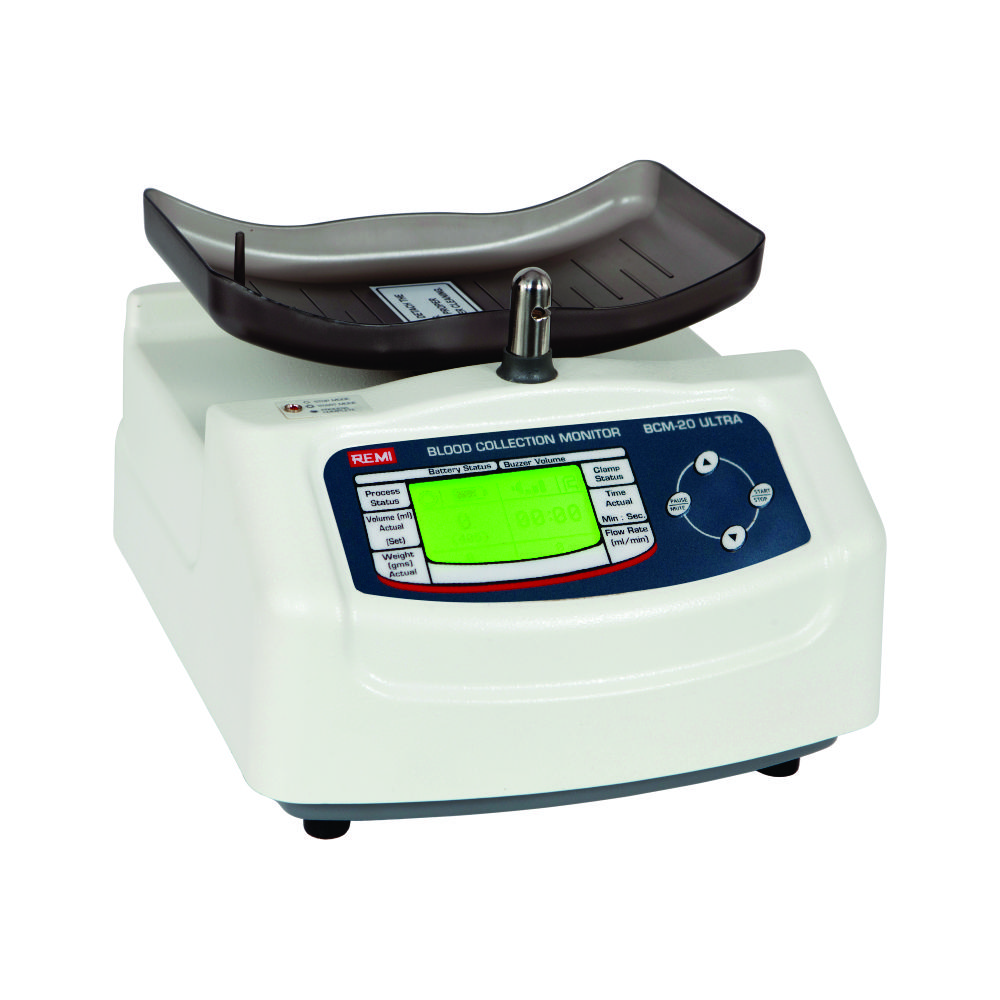 BCM 20 Ultra
REMI BCM-20 Ultra, Next generation blood collection monitor with interactive multicolor LCD display. Helps technicians to follow the SOP's ensuring standardization of the collection process.
Removable magnetic tray ensures easy maintenance & transportation. The long lasting battery backup of 24 Hrs makes it an ideal choice for outdoor camps.
Salient Features
Interactive multicolor display
Adjustable alarm volume
Encapsulated design allowing easy claing.No liquid instrusion in the device
Carrying Case for device including all accessories
Integrated Calibration function with the use of weights
Pause facility to temporarily suspend the donation process
Precise control on volume collection (Microprocessor based system), best in class accuracy (deviation < 1%)
Removable Magnetic Cradle: single grip tray removal
Automatic tarring of blood Bags weight
Automatic release of the bag when lifted,after donation.
Automatic central parking
Recall of last blood collection parameter
Audio Visual Alarm

Flow rate (< 20 ml/min or > 180 ml/min),
Completion of collection
Battery depletion

Visual Indication & Displays

Set volume (ml)
Actual volume (ml)
Collection Process status (Run / Stop / Pause)
Actual weight (gm)
Flow Rate (ml/min)
Time of collection (min)
Battery status
Technical Specifications
Parameter
BCM 20 Ultra
Mixing
Cycle / minute
12-14
Battery backup / rating
Hours
Up to 24 (with overcharge protection)
Max. Volume
ml
Up to 999 (net collection)
Maximum Taring Capacity
gm
Up to 999 gm
W x D x H
Mm
275 x 318 x 205
Net Weight
Kg.
5
Compliance
IEC 60601-1, IEC 60601-1-2
Electrical
220-240 volts, 50 Hz, SINGLE PHASE