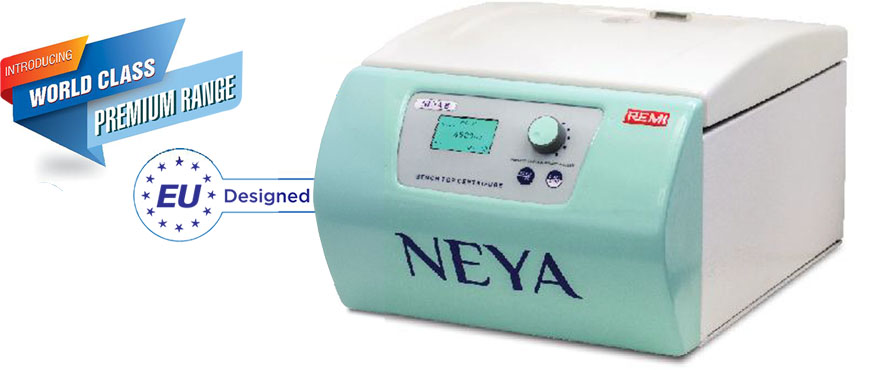 NEYA….. a new concept….. a new generation
Derived from the Hindi word "NAYA" which means "new", "novelty", "innovation", "NEYA" is the name given to the new generation of centrifuges recently developed by REMI.
REMI, market leader in centrifuges with over 55 years of manufacturing experience, combined with European design and style, makes a perfect combination to develop and present the whole range of "NEYA" centrifuges with performance nd characteristics suitable or all the operational needs of modern laboratories.
SIt is with these premises, we are pleased to present the new range of "NEYA" Centrifuge.
Automatic rotor detection, check of presence of accessories and compatibility with maximum speed
Safety speed limiter function
10 storable programs with protection function
Setting of speed in RPM and RCF
Short Spin function and precool (NEYA 16R)
Temperature range from -10°C to +40°C (NEYA 16R)
Controlled by microprocessor and backlit color LCD display with contemporary visualization of all parameters
Digital adjustment of acceleration and deceleration levels
Stainless steel internal bowl with optimal height for loading and of samples
Imbalance detection system with automatic functioning stop to avoid accidents
Automatic locking system of the lid
Safety opening of the lid in case of absence of electirc power
Brushless motor maintenance free and no carbon deposits
Construction in accordance with European directives
maximum capacity 4 x 175 ml
maximum speed 16000 rpm
Technical Specifications
Features
NEYA-12
NEYA-16R
Maximum capacity
6 x 50 ml (fixed angle)
4 x 175 ml (swing out) – 6 x 100 ml (fixed angle)
Maximum speed
16000 rpm (fixed angle)
4500 rpm (swing out) – 16000 rpm (fixed angle)
Setting RPM
Yes
Setting RCF
Yes
Display RCF
Yes
Timer
00:30 to 99:50 (mm:ss) and continuous mode
Date and Time
Yes
Acceleration levels
0-9 (0 = min – 9 = max)
Deceleration levels
0-9 (0 = min – 9 = max)
Temperature range
–
-10°C to +40°C
Precool function
–
Yes
Display temperature
–
Yes (°C and °F)
Spin function
Yes
Programs
10 programs with protection function
Indication of rotor
Yes
Noise
55 dB
55 dB
Directive / Standard
IEC 61010-1 ; IEC 61010-2-020
External dimensions WxDxH/Weight
450 x 590 x 330 mm / 40 Kg
730 x 640 x 330 mm / 70 Kg
Recommended Voltage Stabilizer
–
VS-02