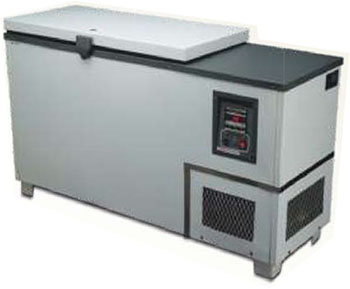 Deep Freezer (- 20°C / – 40°C)
These Quick Freezers are designed for quick freezing and storing of Blood Components, Serum, Vaccines, Biological and Medical Specimens, Clinical Samples etc., at low temperatures.
These units are available in horizontal and vertical versions.Constructed of double walls, the exterior is made of sheet steel while the interior of stainless steel having PUF insulation etc. to minimize heat loss.
Salient Features
Choice of 10 different models to suit individual needs
Low Temperature up to -40°C (in AC room)
Stainless steel inner chamber
Extremely efficient PUF insulation to minimize heat loss
High-tech solid state digital indicator-cumcontroller
Optional Accessories:
Seven days circular chart recorder
Technical Data
Vertical Freezers
Horizontal Freezers
RQFV-
170
RQFV-
170(D)
RQFV-
265
RQFV-
265 (D)
RQFV-
450
RQF-
170
RQF-
170 (D)
RQF-
265
RQF
-265(D)
RQF
–
425
Minimum Temperature
-20ºC
-40ºC
-20ºC
-40ºC
-20ºC
-20ºC
-40ºC
-20ºC
-40ºC
-20ºC
Internal Volume
170 Ltrs.
265 Ltrs.
450 Ltrs.
170 Ltrs.
265 Ltrs.
425 Ltrs.
Int. Dimension
W x D x H (mm)
500 x 430 x 850
580 x 500 x 990
700 x 600 x 1110
600 x 400 x 700
950 x 400 x 700
1100 x 500 x 780
Ext. Dimension
W x D x H (mm)
630 x 580 x 1380
700 x 660 x 1590
830 x 760 x 1770
1150 x 500 x 910
1500 x 500 x 910
1660 x 600 x 940
Inner Chamber Material
Stainless Steel 304 (AlSl Grade, Non Corrosive, Non Magnetic)
Outer Body Material
Powder Coated CRCA Steel
Recommended Voltage Stabilizer
VS-02
VS-02
VS-03
VS-01
VS-02
VS-01
VS-02
VS-03
Electrical
220-240 Volts, 50 Hz. SINGLE PHASE