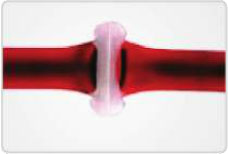 Seal with clear break line
for snap-apart separation
WeldOn – B
WeldOn-B is a robust benchtop sealer with consistent performance. ideally suited for blood component separation lobs.
WeldOn-B helps to keep the bolld bag system completely sterile. Ensures quality sealing with clear rupture line for easy tear apart segments.
Safely features & monitoring system makes it an ideal choice of users.
Salient Features
Senses the blood bag tube for automatic sealing process
Anti-spark and overheat protection system to avoid damage to system & tubing
Continuous status updates on LCD

Ready to Seal
Sealing in process
Sealing completed

Easy to remove sealing head cap for quick cleaning
Seal with clear break line for snap-apart separation
Splash guard for technician safety
Technical Specifications
Parameter
WeldOn – B
Dimension (W x D x H) (mm)
220 X 200 X 120
Weight (Kg)
4
RF Frequency
40.68 MHZ
RF Output
100 watt
Seal time
1.5 Sec (auto adjustable)
Sealing Type
Automatic
Input Voltage
230 V, 50Hz