KBM 80 Plus is the new generation microprocessor controlled blood bank centrifuge with forward thinking design and technology. Ideally used for centrifugation of whole blood for components separation like packed red cells, platelet rich plasma, platelet concentrate, cryoprecipitate and buffy coat etc.
Advance manufacturing techniques are used for mounting of brushless induction drive motor in PUF insulated, corrosion free, stainless steel armored chamber, resulting in minimized vibration and noise level. The smooth acceleration / deceleration helps in clear separation thus ensuring high quality component yield.
This centrifuge cater to the requirements of small, medium & large blood centers with flexibility to choose from 3 rotor options. The rotors are designed to accommodate specific type of oval shaped metal buckets & plastic carriers for holding six, eight & twelve blood bags of different volumes & configuration like 350 ml / 450ml, double / triple / quadruple, penta bags & inline-filter (quintuple) blood bags.
User-friendly software & controls helps in ease of operation. There is a unique facility for setting & controlling the centrifuge run either by RPM (speed) or RCF (g force) thus eliminating the need of manual calculations. Interactive menu driven program guides the operator through the setting process of run parameters & also the operational status while centrifuge is running.
Specially designed wind shielded rotors reduces friction which helps in energy saving & better temperature management. Advanced imbalance sensor neutralize 90g loading imbalance.
KBM BO Plus comes with 2 variants
1.LCO Version
2.TFTVersion
Additional Features of TFT VERSION
Facility to set multiple user profiles with password protected access
Protected admin control for key parameters
Display of realtime run graph with display set & run parameters
Gloves friendly touch screen operation with option to connect with wireless mouse
Sequential program with speed & time triplets
Inbuilt Rotor & Bucket cycle counter to notify user for replacement
Flexible timer option to display total run time with / without acceleration
Onscreen manual, troubleshooting & process guide Enables remote monitoring with casting live screen on
mobile phone (optional)
Performance
Speed holding accuracy +/- 10 RPM
Multiple acceleration & deceleration profiles
Temperature range from -20°C to +40°C
Low noise level (≤ 55db)
Choice of 3 wind-shielded rotors to process 6, 8 & 12 blood bags per cycle
Tropicalized to run from 0°C to 40°C & RH up to 95%
Leading Technology
Brush-less induction motor with frequency drive, practically maintenance free
Advanced user friendly microprocessor control
Programmable centrifugation parameters for accurate control
Onboard real time user data log in with password protection
Dedicated software for data analysis / PDF Reports, connectivity with RS 485/USB
Auto-adjustable effective centrifugal force irrespective of rotor load
User Friendly
Facility to set and indicate RPM or RCF
Simultaneous display of set & run parameters
Self-diagnosis of program errors
Microprocessor controlled automatic lid opening with touch button
Log of 50 run records for LCD/1000 run records for TFT version
Display of real time & Date
Castor wheels with floor standing jacks for vibration free run
Emergency lid opening provision in case of power failure
Auto compressor cut off on lid opening
Safety
Automatic lid interlocking and unlocking
Imbalance cut-off with indication for major variation beyond 75-100 gms
Safety key lock to prevent unauthorized use
Rotor over speed protection
Alarms for imbalance, lid open, over temperature
Password protection for authorized access
Tamper proof memory & last program retell
Automatic Rotor identification & indication
Automatic recovery of process in case of power interruption "Catch On Fly".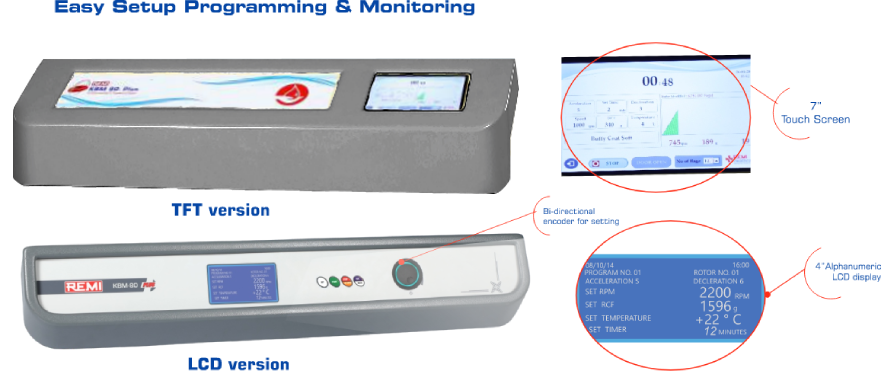 Data Acquisition System
These centrifuges have inbuilt system to collect & store all data related to centrifugation process like operator code, process type, time, temp, RPM, RCF, acceleration, deceleration & process status etc. The data from the centrifuge can be transferred to a computer using a data interface. This data can be used by blood centers for quality analysis & control.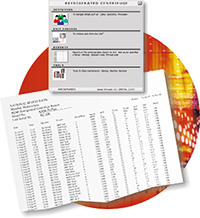 Customized Software for Data analysis
ModelCIS-18 Plus
Technical Specifications
Parameter
Unit
KBM 80 Plus
LCD Version
TFT Version
Process controls
Type
Bi-directional encoder
HMI Touch Screen
Menu driven program
Nos
99
400
Acceleration profile
Steps
1 – 9
1 – 15
Deceleration profile (incl, coasting)
Steps
1- 10
1 – 15
Max. speed
RPM
4200 settable ±10 RPM
4200 settable ±10 RPM
Max. RCF
g
6000
6300
Max time
hh:min
0 to 99 hr 59 min
0 to 99 hr 59 min 59 sec, Hold function
Compatible Rotors
Code
K 711/M, K741, K751
K 711e/M, K741e, K751e
Dimension ( W X D X H)
mm
840 X 940 X 950
Compliance
IEC 61010-1:2016, EN 60601-1,EN 60601-1-2, CE, US FDA
Supply : 220-240 volts, 50Hz, Single phase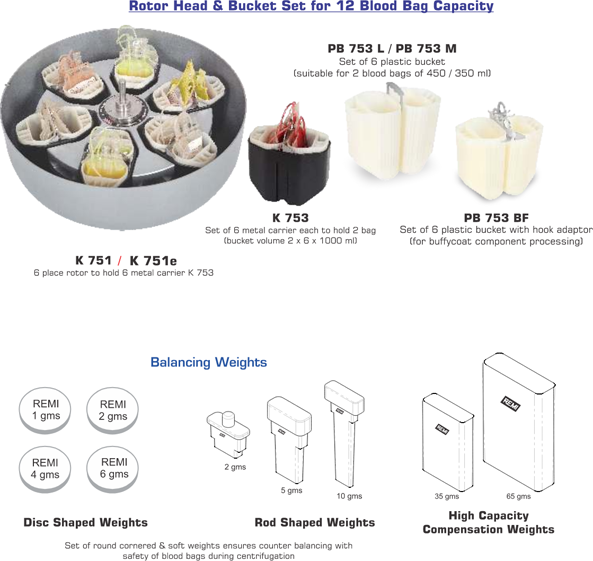 REMI KBM 80 Plus meets the component separation guidelines by AABB & DGHS
Important Parameter for Quality Components
Procedural
Requirements
(as per AABB & DGHS manual)*
Technical Features
KBM 80 Plus
Centrifugal Force (RCF)
5000 g
Heavy spin – Max. RCF
Up to 6000 g / 6300g
Temperature Range
Need temperature 22°C±2°C to run PRP
method & Buffycoat method & 4°C to run
FFP & Cryoprecipitate method
Achieves both desired temperature of
22°C & 4°C with accuracy of ±1°C
along with setting range of -22°C to ± 40°C
Calibration
Must be calibrated for speed & Time for
various component preparation
Special eyelet window for quick calibration
Imbalance
Contents in opposing cups must be equal in
weight to improve centrifuge efficiency
Imbalance Cutoff with indication to ensure
component quality as well as safety