Hemodialysis Chair / Chemotherapy Chair / Therapeutic Chairs
The innovative design of the Dzire 2X / 3X Therapeutic Chair underlines the high quality Standards. The comfortable upholstery creates a pleasant environment and feeling of wellbeing for patients.
Three electric motors offer simple and smooth movements of all desired positions further adding to patient relaxation whilst receiving treatment.
The remote control provides greater flexibility as all desired chair positions can be adjusted easily.
Xtreme Comfort
Specially designed for comfortable physiological posture
Non deformable Soft PU foam
Dual padded Back Cushion
Adjustable Head Support
Vertical & horizontal armrest movement
Ergonomically designed for comfortable Posture
Height adjustment -user friendly for clinical team
Smooth back rest and foot rest movement
Xtreme Safety
Single touch button for shock position – ensures patient safety
Anti-static, Anti-skid, Dual lock PU castors
Sturdy, stable & non-tilt design capable to take weight up to 200 kg
Xtreme Hygiene
Removable cushions for cleaning & maintenance
Epoxy powder coated robust Frame with rounded corners
Anti-fungal, Anti-bacterial, easy to clean upholstery
Elegant, easy to clean ABS moulded cover to prevent dust accumulation on mechanism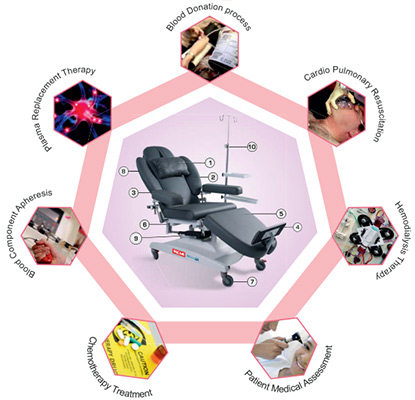 Head rest adjustable for any comfortable position
Cushioned body supports for extra comfort
Movable [horizontal & vertical) fully padded broad armrests with glass holders
Adjustable foot rest with removable transparent plastic cover
Anti-fungal, Anti-bacterial, easy to clean leatherette upholstery
Sturdy & stable steel construction, allows load carrying capacity up to 200 kg
Best in class Dual lock, Anti-skid, Anti-static PU castors
Tissue paper/Towel holder
2/3 independent motors for height, back & foot movements
Infusion stand, adjustable both sides (with set of 3 trays -optional]
Technical Specifications
Parameter
Dzire 2X
Dzire 3X
Dzire 4X
No of Motors / Actuators
2
3
4
Motorized movement
Leg rest, Back rest
Leg rest, Back rest, Height adjustment
Leg rest, Back rest, Height adjustment, Foot rest
Foot rest
Spring loaded & Self-adjustable with removable cover
Motorized with removable cover
Wheels
Anti-static, Anti-skid, Dual lock PU castors
Construction
Epoxy powder coated steel frame
Removable Cushion
Anti-fungal, Anti-bacterial,leatherette with CFC free PU foam
Attachments
Infusion stand, adjustable both sides
Hand rest movement
Vertical & Horizontal movement and height adjustable
Weight Carrying Capacity
200 kg
Weight
75kg
80kg
85kg
Compliance
IEC 60601-1, IEC 60601-1-2, US-FDA
Electrical
220v-240v 50Hz, Single phase
Battery Backup (OPtional)